Oficiální název: Jordánské hášimovské království.  Jeho sousedy jsou Irák,  Izrael, Saúdská Arábie,  Sýrie.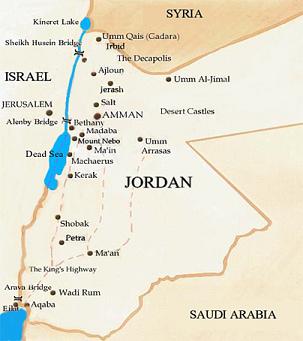 Hlavní město: Ammán.
Měna: jordánský dinár (1 JOD = 100 piastrů =
1 000 filů).1 JOD = cca 26,-Kč.
Časový posun: + 1 hod.
Doklady a víza: občané České republiky se při vstupu do Jordánska musí prokázat cestovním pasem s platností minimálně 6 měsíců po návratu a platným vízem.
Jednorázové vstupní vízum lze získat na počkání na letišti a pozemních hraničních přechodech v Jordánsku za jednotný poplatek JOD 10,- (cca 14,- USD).
Vízum lze získat také na Jordánském velvyslanectví ve Vídni.
V případě, že z pasu je zjevné, že turista navštívil Izrael, nebo není-li zřejmé, jak vstoupil do Jordánska, nevpustí dotyčného turistu do sousedních arabských zemí – Sýrie, Irák a Saúdské Arábie.
Mezinárodní očkovací průkaz není vyžadován.

Zdravotnictví v Jordánku: zdravotnická zařízení jsou v Jordánsku na velmi dobré úrovni. Velmi kvalitní je síť soukromých nemocničních zařízení, péče je však nákladná a často je vyžadována platba předem.
Před cestou do Jordánska se doporučuje sjednat cestovní pojištění.
.

Doprava do Jordánska: přímý letecký spoj z Prahy do Ammánu není.  Přestupuje se většinou ve Vídni.  Jordánská letecká společnost  The Royal Jordanian Airline poskytuje mezinárodní služby na letištích v Ammánu a Akabě.
.
.

Bezpečnost: je v Jordánsku velmi dobrá, kriminalita velmi nízká a případným cestovatelům nehrozí žádné zvýšené riziko.  Přesto je nutno mít na paměti, že Jordánsko je muslimskou zemí.  Tomuto faktu je zapotřebí přizpůsobit jak chování vůči místnímu obyvatelstvu (nevhodná je např. konzumace alkoholických nápojů na veřejnosti),  tak i oblečení (nedoporučuje se výstřední oblečení, a to zejména ve venkovských oblastech). Odlehlé oblasti nemusí být bezpečné a mohou ještě stále obsahovat např.  miny zbylé po válečných konfliktech.
.

Nejvhodnějším obdobím:  k návštěvě Jordánska je jaro nebo podzim, kdy se vyhnete žhavému letnímu slunci a mrazivým zimním větrům. Přestože zima může být na většině území Jordánska poměrně chladná, na pobřeží Rudého moře v Aqabě je stále příjemné počasí.
Turistické zajímavosti.
Skalní město Petra: monumentální město vytesané do skal a nejznámější historická památka byla zařazena na seznam sedmi novodobých divů světa.  Jedná se o jedinečné místo s neporušenými chrámy, dómy, amfiteátry, paláci i vítěznými oblouky.  Jsou zde obdivuhodné skalní útvary, antické divadlo zahrnující více než 7 000 míst, královské hrobky, římské cardo nebo Vymalovaný dům.
Vykopávky Jerash: nebo-li Pompeje východu, jak se těmto vykopávkám říká, skrývají nejstarší a nejzachovalejší řecko-římské město na Středním východě jménem Gerasa. Při vstupu do města vás přivítá Hadriánův oblouk, postavený na počest římského císaře.  Z původního města je odhaleno pouze asi 10%.
Wádí Rum: je pozoruhodné místo na jihu Jordánska. Fascinující pouštní krajina, obklopená skalními útvary vytváří jednu z nejkrásnějších pouštních scenérií. Toto jedinečné přírodní dílo oplývá neskutečnou barevností, od odstínů oranžové, hnědé, červené a žluté, a nabízí ojedinělou krásu. Následující fotografie nepotřebují komentář …
Mrtvé moře: se nachází na hranici Jordánska a Izraele.  Stáří tohoto unikátního slaného jezera se odhaduje až na 3 miliony let.  Moře je nejnižším bodem (430 m pod mořskou hladinou) na zeměkouli a díky nadměrnému obsahu soli zde není možné se potopit.  Tato zvláštnost přitahuje množství návštěvníků.  Jezero je bezodtokové, což znamená, že jeho voda se uvolňuje pouze vypařováním. Vysoká koncentrace minerálů, je hojně využívána při léčbě kožních nemocí, jako je lupénka, ekzém, akné a řada respiračních a revmatických obtíží.
Ammán.
Ammán je pulzujícím moderním městem a navíc skvělým výchozím bodem pro různé výlety, třeba do Džaraše nebo na horu Nebó .
Historické jádro je tvořeno citadelou, kde je možné navštívit mešitu Al-Husejn.  Právě tady se nachází městský súk, kde seženete vše od rozmanitých druhů koření až po zlaté šperky.  Dále stojí za zmínku rozvaliny Filadelfie, kde je k vidění i římský amfiteátr s kapacitou až 6 000 míst k sezení, dostavěný za vlády Marka Aurelia. V podzemí se nachází Muzeum folklóru a Jordánské muzeum lidových tradic, kde jsou pěkné sbírky tradičních oděvů, mozaik a beduínských šperků.
Teploty: V Ammánu jsou průměrné roční teploty v lednu 8 °C  a v červenci 25 °C. Srážky zde pak činí 27 mm.
Aqaba.
Na jihu Jordánska, u Rudého moře, leží město Aqaba – jediné a pro Jordánsko strategicky důležité přístavní město.
Aqaba je vyhledávané letovisko s velmi kvalitními hotely, rozlehlými plážemi, restauracemi, obchůdky a  možnostmi sportovního vyžití. Díky mírným teplotním podmínkám se můžete do Aqaby vydat v jakýkoliv den v roce. Teplota i v zimě neklesne pod 20 stupňů C.
Nádherné pláže kontrastují s pozadím hor, které vytvářejí úchvatnou přírodní scenérii a samotné Rudé moře je rájem pro milovníky potápění. Zdejší korálové útesy se označují za nejkrásnější na světě a po právu se řadí mezi nejlepší a nejzajímavější potápěčské lokality svého druhu. Nachází se zde velmi vzácné ryby, z nichž některé druhy žijí pouze v okolí Aqaby.
V Aqabě najdete také zajímavé historické památky. V archeologických průzkumech města byl nedávno objeven údajně nejstarší kostel na světě, který pochází pravděpodobně z 3. století. Dalším zajímavým místem  jsou pozůstatky starého města Ayla. Staré město bylo obehnáno hradbami v období raného islámu. Vstup do města zajišťovaly čtyři vstupní brány. Pozůstatky tohoto města se nacházejí nedaleko hotelové oblasti. V Aqabě stojí stejnojmenná pevnost. Ta byla postavena v roce 1587. V historickém domě Sharif Hussein bin Ali je umístěno Archeologické muzeum Aqaby.
V roce 2004 byl ve městě Aqaba otevřen největší obchodní a zábavní komplex Gateway.